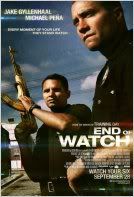 Release Date:
September 21, 2012
Studio:
Open Road Films
Director:
David Ayer
Screenwriter:
David Ayer
Genre:
Crime / Drama
MPAA Rating:
(R) for strong violence, some disturbing images, pervasive language including sexual references, and some drug use.
Official Website:
www.facebook.com/endofwatchmovie
Cast:
Jake Gyllenhaal, Michael Peña, Anna Kendrick, America Ferrera, Frank Gillo
Plot Summary: A powerful story of family, friendship, love, honor and courage, End Of Watch stars Academy Award® nominee Jake Gyllenhaal and Michael Peña as young police officers Taylor and Zavala as they patrol the city's meanest streets of south central Los Angeles. Giving the story a gripping, first-person immediacy, the action unfolds through footage from the handheld HD cameras of the police officers, gang members, surveillance cameras, and citizens caught in the line of fire to create a riveting portrait of the city's most dangerous corners, the cops who risk their lives there every day, and the price they and their families are forced to pay.