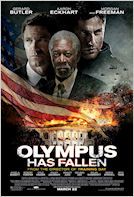 Release Date:
March 22, 2013
Studio:
FilmDistrict
Director:
Antoine Fuqua
Screenwriter:
Creighton Rothenberger, Katrin Benedikt
Genre:
Action / Drama
MPAA Rating:
(R) for strong violence and language throughout.
Official Website:
www.OlympusMovie.com
Cast:
Gerard Butler, Dylan McDermott, Morgan Freeman, Aaron Eckhart, Angela Bassett, Radha Mitchell, Cole Hauser, Melissa Leo, Rick Yune, Ashley Judd, Robert Forster
Plot Summary: When the White House (Secret Service Code: "Olympus") is captured by a terrorist mastermind and the President is kidnapped, disgraced former Presidential guard Mike Banning finds himself trapped within the building. As our national security team scrambles to respond, they are forced to rely on Banning's inside knowledge to help retake the White House, save the President, and avert an even bigger disaster.