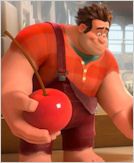 Tapping stars from the big and small screens,
Walt Disney Animation Studios
rounds out its voice cast for
WRECK-IT RALPH
. Directed by Rich Moore (TV's "The Simpsons," "Futurama") and produced by Clark Spencer ("Lilo & Stitch," "Bolt"), the hilarious arcade-game-hopping adventure adds to its current roster, which includes John C. Reilly as Wreck-It Ralph, Jack McBrayer as Fix-It Felix Jr., Jane Lynch as Sergeant Calhoun and Sarah Silverman as Vanellope von Schweetz. "Wreck-It Ralph" hits theaters November 2, 2012.
Helping to bring to life the diverse, colorful and wildly imaginative arcade-game worlds created for "Wreck-It Ralph" are the following voice cast members:
Alan Tudyk (ABC's "Suburgatory," "Dodgeball") as King Candy, ruler of Sugar Rush, a candy-coated cart racing game
Ed O'Neill (ABC's "Modern Family") as Mr. Litwak, owner of Litwak's Family Fun Center & Arcade
Mindy Kaling ("The Mindy Project," "The Office") as Taffyta Muttonfudge, an accomplished racer and Vanellope's nemesis
Adam Carolla ("The Adam Carolla Show") as Wynchel, Sugar Rush security
Horatio Sanz("Saturday Night Live") as Duncan, Sugar Rush security
Dennis Haysbert (CBS's "The Unit," "24") as General from the first-person shooter game, Hero's Duty
Edie McClurg ("Ferris Bueller's Day Off," TV's "The Life & Times of Tim," "Planes, Trains & Automobiles") – as Mary, a Nicelander who lives within the game Fix-It Felix, Jr.
Roger Craig Smith (Captain Marvel from TV's "The Avengers: Earth's Mightiest Heroes," Ezio from game franchise "Assassin's Creed") as Sonic the Hedgehog
Gerald C Rivers (video game "Street Fighter" series) as M. Bison
Rachael Harris ("The Hangover," TV's "New Girl") as Deanna, a Nicelander who lives within the game Fix-It Felix, Jr.
Stefanie Scott (Disney Channel's "A.N.T. Farm") as Moppet Girl, a young arcade enthusiast who visits Litwak's arcade
Reuben Langdon (multiple "Street Fighter" video games) as Ken from Street Fighter
Kyle Hebert (multiple "Street Fighter" video games, TV's "The Avengers: Earth's Mightiest Heroes") as Ryu from Street Fighter
ABOUT THE MOVIE
From Walt Disney Animation Studios and Emmy®-winning director Rich Moore comes WRECK-IT RALPH, a hilarious, arcade-game-hopping adventure. For decades, Ralph (voice of John C. Reilly) has been overshadowed by Fix-It Felix, Jr. (voice of Jack McBrayer), the good-guy star of their game who always gets to save the day. Tired of playing the role of a bad guy, Ralph takes matters into his own massive hands and sets off on a journey across the arcade through multiple generations of video games to prove he's got what it takes to be a hero.
On his quest, Ralph meets tough-as-nails Sergeant Calhoun (voice of Jane Lynch) from the first-person action game Hero's Duty, and feisty misfit Vanellope von Schweetz (voice of Sarah Silverman) from the candy-coated cart racing game, Sugar Rush, who may just be his first real friend. But everything changes when a deadly enemy is unleashed, threatening the entire arcade and Vanellope herself. Ralph finally gets his chance to save the day—but can he do it in time? "Wreck-It Ralph" crashes onto the big screen on November 2, 2012, in Disney Digital 3D™ in select theaters.
Source: Walt Disney Animation Studios