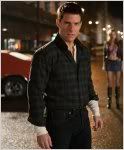 Paramount Pictures
has released the new trailer for
JACK REACHER
, starring Tom Cruise, Rosamund Pike, Robert Duvall, Richard Jenkins, Jai Courtney and Werner Herzog.
Directed by Christopher McQuarrie, the film follows a homicide investigator who digs deeper into a case involving a trained military sniper who shot five random victims. Based on a book in Lee Child's crime series.
JACK REACHER hits theaters December 21st.
Source: Yahoo! Movies