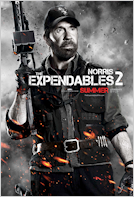 With
The Expendables 2
finishing up it's first week run in theaters, we
recently learned
that Expendables producer Avi Lerner was already in talks with some of Hollywood's biggest names to appear in
THE EXPENDABLES 3
.
Those names included Clint Eastwood, Harrison Ford, Nicolas Cage and possibly Wesley Snipes once he completes his prison term next July.
Meanwhile, during the premiere of the second film, Chuck Norris spoke with Access Hollywood and stated that he would not be returning for the third installment, which would again pair him with franchise regulars, Sylvester Stallone, Jason Statham, Jet Li, Dolph Lundgren, Randy Couture, Terry Crews, Bruce Willis and Arnold Schwarzenegger.
Check out the interview segment below.
Source: Access Hollywood