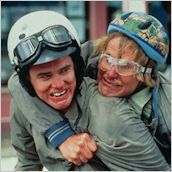 Back in October, it was reported that Jim Carrey was set to re-team with co-star Jeff Daniels for the sequel to
Dumb and Dumber
. Then, In June of this year
ET Online
reported Carrey had decided not to reprise his role as Lloyd Christmas in the film, due to his growing frustration with New Line and Warner Brothers, who he felt showed a lack of enthusiasm regarding the project.
But, now there's new hope. Daniels recently fielded questions while at the Television Critics Association panel for "The Newsroom," and Carrey is said to still be interested.
"Jim wants to do it. I want to do it. The Farrellys want to do it. They want to rewrite the script a little bit and they aren't trying to jam it in before I have to go back and do 'Newsroom' in November. So they're going, 'Why don't we just do it right? Let's get everybody organized to go next May or June.' If everything works out on the business side, that's what we'll do but I think there's more hope than ever," said Daniels.
Daniels added that he understood why Carry previously backed out, saying "This has been a year and a half of a whole bunch of are we, aren't we, what's going on, yeah the script's funny, no it's not, now we have to have notes. So I think Jim just got frustrated and I completely got it. I was frustrated too. We thought it was in pretty good shape. The studio and others wanted some more work done it. The Farrellys wanted more work done on it so they got working on it and I think last week they decided to push the shooting of it to next year, possibly because I wasn't going to move 'The Newsroom.'"
Source: CraveOnline