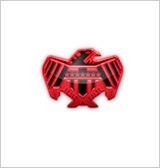 Lionsgate has debuted a cool little viral campaign for
DREDD 3D
in the form of a new website and a PSA for all you Mega City One residents who can't "just say no" to Slo Mo.
The studio has launched DreddReport.com, a familiar looking site for those who might visit Drudge Report. While both contain links pointing to various real-life news articles on the net, the viral site uses headlines based on the world that is Mega City One.
In addition, there's a couple of links amongst the others to mention, including a link to saynotoslomo.com, which redirects you to a anti-Slo Mo PSA video hosted on YouTube and The Peach Tree News, which appears to be the official news outlet for the 200-story high city-block featured in the film.
In theaters September 21st, the R-rated DREDD 3D stars Karl Urban, Lena Headey, Olivia Thirlby.