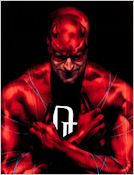 20th Century Fox has dropped the ball in putting a
Daredevil
reboot in production by October 10th, thus allowing the rights to the project to revert back to Marvel, says Variety.
The news arrives following tweets made by director Joe Carnahan, in which he said, "Think my idea for a certain retro, red-suited, Serpico-styled superhero went up in smoke today kids."
Apparently, Fox letting the project stall wasn't for a lack of substance in Carnahan's material submitted to the studio. "Guys. To clarify. DD pitch was tremendous and everyone flipped for it. The clock ticked down at Fox, that's why it went tits up."
Soon after those tweets Carnahan asked if fans wanted to see a sizzle piece and added if he reached 6,000 Twitter followers he would post the clip. Well, in short order he got what he asked for and as promised he posted TWO clips to YouTube, which you can watch below. The first clip is NC-17, while the second is a PG-13 version.
Source: Variety