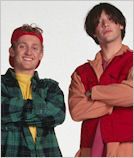 It was
recently reported
that director Dean Parisot (
Galaxy Quest
) had been tapped to helm a third
Bill & Ted
adventure from a script by the films' original creators, Ed Solomon and Chris Matheson.
Today, while speaking to GQ, Keanu Reeves offered new plot details for the film featuring his character Ted Theodore Logan and Bill S. Preston (played by Alex Winter).
"One of the plot points is that these two people have been crushed by the responsibility of having to write the greatest song ever written and to change the world. And they haven't done it. So everybody is kind of like: "Where is the song?" The guys have just drifted off into esoterica and lost their rock. And we go on this expedition, go into the future to find out if we wrote the song, and one future "us" refuses to tell us, and another future "us" blames us for their lives because we didn't write the song, so they're living this terrible life. In one version we're in jail; in another we're at some kind of highway motel and they hate us."
Both 1989s Bill and Ted's Excellent Adventure and 1991s Bill and Ted's Bogus Journey were set up at MGM, and though the studio still owns rights to Bill & Ted, it's said this film is being shopped to other studios to co-finance.
Head over to GQ to read the full interview.