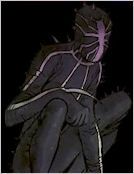 Robert Emms has signed to play the role of Insect Man in director Jeff Wadlow's KICK-ASS 2. The British actor starred in
Mirror, Mirror
, Steven Spielberg's
Warhorse
and most recently in the indie film
Broken
opposite Tim Roth and Cillian Murphy.
A member of Justice Forever, Insect Man claims to be a policeman but uses a costumed secret identity to do things that being a policeman doesn't allow him to do. In legal terms he would be considered a corrupt cop but his intentions appear to be noble. However, he wouldn't be the first superhero to lie about his origins, so anything he says is questionable. [Kick-Ass Wiki]
In related news, Morris Chestnut will appear in the sequel. He takes the role of the guardian for the character played by Chloe Moretz.
Source: Deadline