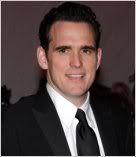 Matt Dillon and Willem Dafoe will star in the Chris Brinker directed indie drama,
WHISKEY BAY
, says
Deadline
.
In the film Dafoe plays "veteran cop who busts estranged white supremacist and ex-con, Jesse Wheeler. Dillon plays Wheeler, a notorious former member of the Aryan Brotherhood who's trying to start his life over but gets enlisted to go undercover to expose illegal activities in the organization."
Jonny Hirschbein provided the script. Scott Einbinder, Matt Rhodes, Jim Crabbe, Nancy Green-Keyes and Kevin Chapman are producing and the film will shoot in Louisiana.
Source: Deadline