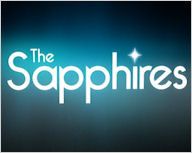 The Weinstein Company has released the first trailer for
THE SAPPHIRES
, starring Chris O'Dowd, Deborah Mailman, Jessica Mauboy, Miranda Tapsell and Shari Sebbens.
Inspired by a true story, THE SAPPHIRES follows four vivacious, young and talented Australian Aboriginal girls from a remote mission as they learn about love, friendship and war when their all girl group The Sapphires entertains the U.S. troops in Vietnam in 1968. Cynthia (Tapsell), Gail (Mailman), Julie (Mauboy) and Kay (Sebbens) are discovered by Dave (O'Dowd), a good-humored talent scout with a kind heart, very little rhythm but a great knowledge of soul music. As their manager, Dave books the sisters their first true gig giving them their first taste of stardom, and travels them to Vietnam to sing for the American troops.
Yet to receive a release date, the biographical musical is premiering at the Toronto International Film Festival 2012, which runs from September 6th thru 16th.
Source: TIFF