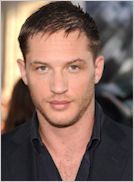 Tom Hardy and Michael Shannon have joined the
THE LONG RED ROAD
, a feature film adaptation of Brett C. Leonard's play of the same name, reports Variety. Hardy will reprise his role as Sam, while Shannon will play his older brother in the film set up at Whipsmart.
Leonard has come on board to write the big-screen version, which follows Hardy's character as he "attempts to drink away his demons on an Indian reservation in South Dakota. When a visitor from his past arrives, Sam has to take a hard look at the man he's become and the life he left behind."
Philip Seymour Hoffman directed the play, but it's unknown if he will helm the feature version.
Source: Variety