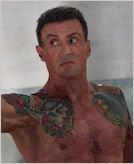 Warner Bros. Pictures
has released the first trailer for
BULLET TO THE HEAD
, an adaptation of the graphic novel, that stars Sylvester Stallone, Jason Momoa, Sarah Shahi and Christian Slater.
In theaters February 1, 2013, BULLET TO THE HEAD tells the story of a New Orleans hitman (Stallone) and a New York City cop who form an alliance to bring down the killers of their respective partners.
The R-rated action-thriller is directed by Walter Hill with a screenplay from Alessandro Camon.
Source: IGN