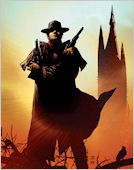 A couple weeks ago
we reported
that Warner Bros. was anticipating a new script presentation from Akiva Goldsman for an adaption to Stephen King's
The Dark Tower
.
Today, comes news that the studio has passed on the massive project, that would have seen three feature films and two limited run TV series.
Warner Bros. is the second studio to let go of the project. After sitting idle for eight months at Universal Pictures, which was said to be due to budget concerns, they too opted out of telling King's epic eight-volume story.
Where ever the project ends up, Ron Howard and Brian Grazer are expected to produce through their Imagine Entertainment banner, with Howard as director and King as another producer. Russell Crowe was said to have been in talks to play gunslinger, Roland Deschain, but with this recent development it's unclear if he will do so.
Source: Variety