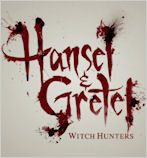 Paramount Pictures has released the first trailer for writer-director Tommy Wirkola's
HANSEL & GRETEL: WITCH HUNTERS
, starring Jeremy Renner, Gemma Arterton, Famke Janssen, Peter Stormare, Zoe Bell and Thomas Mann.
15 years after their traumatic gingerbread-house incident, siblings Hansel and Gretel have become a formidable team of bounty hunters who track and kill witches all over the world.
HANSEL & GRETEL: WITCH HUNTERS debuts in theaters January 11, 2013.
Source: iTunes Movie Trailers, YouTube