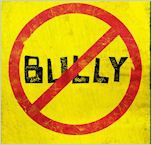 I believe this is for a good cause, so I'm sharing this email from the writer/director of
BULLY
, Lee Hirsch, who is helping raise awareness about bullying through
The Bully Project
. Read below and help if you can!
We have an awesome deal with Groupon, which QUADRUPLES every donation to THE BULLY PROJECT. If you can, DONATE NOW!
The clock is ticking! We have 2 Days and 11 Hours left to take advantage of this amazing opportunity to raise money for our 1 Million Kids program!
1 Million Kids brings students from public middle and high school communities all across America to see BULLY in theaters with their class, and provides teachers with training on the film and bullying, at no cost to schools. But we need to raise money! Over 15,000 students have seen BULLY this fall and we have another 67,000 ready to go!
Here's What You Can Do:
Donate Money: A $10 donation brings 5 kids to see the film.
Donate a Tweet: Check out this awesome Groupon deal to help bring students across the country to see @Bullymovie! http://gr.pn/OJwJmo
Donate your Facebook Status: Take a stand against Bullying! Help bring students and educators across the country to see @BULLY MOVIE. Donate money through this awesome Groupon deal which QUADRUPLES your donation: http://gr.pn/PBuBzO. Please SHARE this POST!
Together we can stand up against bullying. Thank you for your support and donation!
Lee Hirsch
Director/Producer
The Bully Project