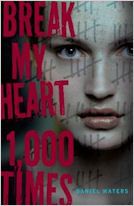 Brian Klugman and Lee Sternthal, the writer/director duo behind
The Words
due in theaters this Friday have been tapped to helm
BREAK MY HEART 1,000 TIMES
, says
THR
.
The supernatural thriller, based on the forthcoming book by Daniel Waters was adapted by Jason Fuchs (Ice Age: Continental Drift) and is described as follows:
Living in the aftermath of the Event means that seeing the dead is now a part of life, but Veronica wishes that the ghosts would just move on. Instead, the ghosts aren't disappearing—they're gaining power.
When Veronica and her friend, Kirk, decide to investigate why, they stumble upon a more sinister plot than they ever could have imagined. One of Veronica's high school teachers is crippled by the fact that his dead daughter has never returned as a ghost, and he's haunted by the possibility that she's waiting to reappear within a fresh body. Veronica seems like the perfect host. And even if he's wrong, what's the harm in creating one more ghost? [Amazon]
The novel will hit book stores next month.
Source: The Hollywood Reporter