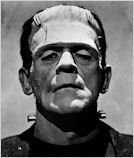 Paul McGuigan (
Push
,
Lucky Number Slevin
) is in talks with 20th Century Fox to direct their upcoming
FRANKENSTEIN
project,
Variety
reports. Max Landis (
Chronicle
) provided the script, which is an adaptation of Mary Shelley's 1818 novel.
The trade adds that Shawn Levy was originally attached to direct, but backed out when learning Fox was not intending a big-budget version, but electing to keep costs on the project down instead.
Little else is known, as the studio has kept details on the down-low, most likely due to other Frankenstein based projects set-up at Ghost House Pictures and RT Features.
Source: Variety