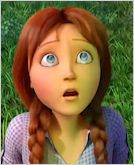 The first trailer for Summertime Entertainment's animated feature,
DOROTHY OF OZ
has made it's way online. Watch it below, courtesy of the films official
YouTube
channel.
The film has yet to receive a release date, but includes the voices of Lea Michele, Patrick Stewart, Kelsey Grammer, Dan Aykroyd, Hugh Dancy, James Belushi, Martin Short, Megan Hilty and Oliver Platt.
Here's the films official synopsis:
The home Dorothy has been so desperate to return to is severely damaged, and the townspeople are packing up and moving out. But shortly after arriving in Kansas, Dorothy is magically transported back to Oz. She finds out that Oz is in trouble, and the people there need her help. Dorothy's old friends - the Scarecrow, Tin Man and the formerly Cowardly Lion - have disappeared and Oz is in a state of decay. As Dorothy journeys to find her friends, she encounters a number of new companions and the problems including a man made of marshmallows who can't think for himself; a china doll princess whose bossiness is a cover for her fragility; and a tugboat with as many personalities as he has pieces. Dorothy must help this odd group band together against a new villan - a wicked Jester who thinks all of Oz should be under his control.
Source: Summertime Entertainment, YouTube