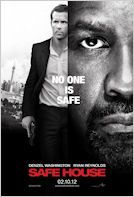 Released in February of this year,
Safe House
has since gone on to gross $126 million domestically and $202 million worldwide for Universal Pictures, nothing to shake a stick at and thus the studio is reportedly prepping a sequel to the film.
THR has the news, saying David Guggenheim is back to pen the follow-up with Scott Stuber of Universal based Bluegrass Films returning to produce.
The first film, directed by Daniel Espinosa, follows Tobin Frost (Denzel Washington), one of the CIA's most dangerous traitors, who resurfaces in South Africa after eluding capture for almost a decade. During his interrogation, the safe house is attacked by brutal mercenaries forcing rookie agent, Matt Weston (Ryan Reynolds) to take the infamous Frost on the run. As the masterful manipulator toys with his reluctant protégé, shaking the young operative's morality and idealism, the unlikely allies must fight to stay alive long enough to uncover who wants them both dead.
Though no deal has been made, the trade reports that Reynolds likely would return to star in the as-yet-untitled sequel. As for Washington, well his involvement is less clear, and if you've seen the original then you know why.
Source: The Hollywood Reporter