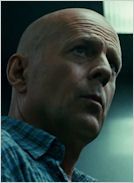 20th Century Fox has released a teaser trailer for their upcoming Bruce Willis starrer,
A GOOD DAY TO DIE HARD
, which you can check out below.
The fifth installment in the "Die Hard" franchise, opens in theaters February 14, 2013 and, follows John McClane (Willis) and his son (Jai Courtney) as they take on local forces in Russia.
Cole Hauser, Mary Elizabeth Winstead, Amaury Nolasco, Sebastian Koch and Julia Snigir co-star in the film, directed by John Moore.
Source: Yahoo! Movies