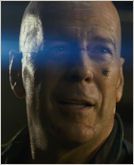 20th Century Fox has released a second trailer for their upcoming Bruce Willis and Jai Courtney starrer,
A GOOD DAY TO DIE HARD
, and you can watch it below.
The fifth installment in the "Die Hard" franchise, opens in theaters February 14, 2013 and follows Iconoclastic, take-no-prisoners cop John McClane (Willis), who for the first time, finds himself on foreign soil after traveling to Moscow to help his wayward son Jack (Courtney) -- unaware that Jack is really a highly-trained CIA operative out to stop a nuclear weapons heist. With the Russian underworld in pursuit, and battling a countdown to war, the two McClanes discover that their opposing methods make them unstoppable heroes.
Source: iTunes Movie Trailers